If you want to spend some time in the lap of nature and enjoy its beauty from up close, head to God's own abode – Kerala. This South Indian state is one of the visited travel destinations in our country. The monotonous life can lead to a lot of stress, a vacation to Kerala will give you the much needed recluse from the stress of everyday life. Blessed with an abundance of nature, you can fully rejuvenate yourself amidst the nature.


Here are some of the most beautiful places that you should explore in your Kerala trip, which is a comprehensive tour guide about gods own country.
1.Munnar
Munnar is a hill station in Kerala, which is bless with lush vegetation and scenic natural beauty. Located in Idukki, Munnar has an extensive tea plantation. The hill station sees the growth of a large amount tea in its slopes. The tea gardens in Munnar cannot be missed when you are visiting the place.
Head to the Pothamedu view point so that you can get panoramic views of the city from a high vantage point. Munnar is also home to two Wildlife Sanctuaries, the Eravikulam Wildlife Sanctuary and the Chinnar Wildlife Sanctuary. The Eravikulam Wildlife Sanctuary is houses the Nilgiri Tahrs, Golden Jackals, Elephants, dusky palm squirrels, red necked mongoose and many more. The Chinnar Wildlife Sanctuary on the other hand, houses the rusty spotted cats, grizzled giant squirrels and crocodiles.
2. Varkala
Varkala Beach is quite a popular beach not just in Kerala but all across the country. It is one of the best beaches in India. For the beach lovers it is a great spot to enjoy their day by the sea. The pristine sandy beach with azure waters remarkably stands out among other beaches in the state. What makes the beach even more beautiful are the high cliffs that surround it. It also offers activities like surfing and boat rides. Engage in beach activities or take an Ayurvedic massage to unwind yourself while at the beach. You can also hop by the Tibetan shops in Varkala to buy souvenirs.
3. Kochi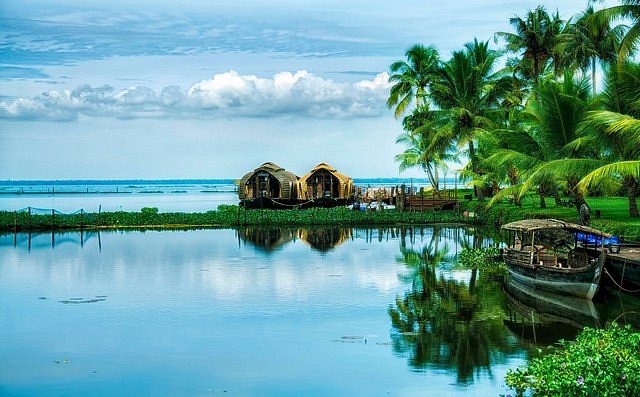 Kochi Known as the 'Queen of the Arabian Sea', Kochi is a port city in Kerala. This city has seen a number of foreign invasions and thus have become a potpourri of cultures. While in Kochi head to the Vasco de Gama church, it is believed that when Vasco de Gama died in India, he was buried in this church although later his remains have been transferred to Lisbon. Cherai Beach, Fort Immanuel, David Hall and Mattancherry Palace are some popular destinations in Kochi. The Chinese nets in the sea waters are another popular attraction in the town. Kerala tops many people's travel bucket list. The serene charm of Kerala can only be experienced when you visit this beautiful state.
---
Also Read:
The natural beauty in West Bengal is wild and unexplored, making it perfect for tourists to witness and photograph.